Nashville Car Accident Lawyer

Injuries suffered by negligent or reckless drivers can be catastrophic, leading to permanent disability or death. With a reputation throughout Tennessee for compassionate and caring representation, our Nashville car accident lawyers know how to fight for the rights of seriously injured car accident victims. Whether you've been in a fender bender or a head-on collision, our attorneys are here to help you.
Every day reckless drivers, drunk drivers, dangerous highways, and vehicle defects cause car accidents in Nashville. The victims of these accidents face a difficult time, from trying to cover medical costs to rehabilitation and recovery. If you've been in a car accident, we'll walk you through the steps to show you what happens next. We'll handle all communications with insurance companies, file a claim on your behalf against the negligent party, and be accessible to you whenever you need us.
What can a car crash lawyer do for you?
When determining the potential compensation a car accident attorney can help you receive, there are several factors to take into consideration:
How severely were you injured?
Did these injuries prevent you from returning to work or completing your tasks at work?
Did you need to stay the hospital and if so, for how long?
Was there an element of mental anguish associated with your physical injuries?
Our legal team will get the compensation you deserve and need to help you restore a sense of normalcy to your life. We can help you recover expenses that were used to pay for doctor's visits and hospital stays. This can also cover future doctor's visits, rehabilitation, and even in home car if necessary.
If you were unable to return to work, we can help you recover lost wages. You should not have to loose out on income because of the negligent actions of another driver. Our accident attorneys can also help you get compensation for future wages that will be diminished because of reduced earning capacity due to physical impairment, disability, or disfigurement.
If You've Been in an Accident
An insurance adjuster will most likely call you within the first few days of an accident to offer you a settlement. This settlement saves the insurance company from going to court, and saves money by offering a price lower than what you could win in a court. Don't discuss crash details with an insurance adjuster before consulting your personal injury lawyer. Revealing too much could lower your compensation in a court, since insurance adjusters are not on your side and might use the information against you. Resist the urge to accept quick settlements and take the professional advice of an attorney instead.
When there's been a personal injury, the statute of limitations in Tennessee is only one year after the accident. No matter how powerful your claims are state law will prevent you from bringing your case to court if you don't file a lawsuit within that time. The sooner you contact us to file a claim, the better.
Nashville Car Accident Resources
Tennessee Car Accident Laws
Tennessee is a "fault" state, giving the injured party several options to pursue a claim with the at-fault driver. Under this rule, a judge determines fault and holds one party legally liable for covering losses associated with the crash.
As a victim of a negligent driver's mistakes, you can file a claim with your insurance company, the other driver's insurance company, and the driver. Tennessee law is in place to protect the victims of car accidents, and allows law firms like Larry R. Williams, PLLC, to win significant compensation for clients in the event of a negligence accident.
In Tennessee, if you're partially at fault for an accident, a judge may reduce your compensation. This "modified comparative fault" rule allots certain percentages of fault across multiple parties. How at-fault the judge finds you will affect the final amount of your compensation.
If you're held responsible for causing more than 50% of the accident, your award for damages drops to zero. To ensure that you have the best representation possible if you were partially at fault for an accident, trust the Nashville personal injury attorneys at Larry R. Williams, PLLC, to defend your case and avoid losing your award.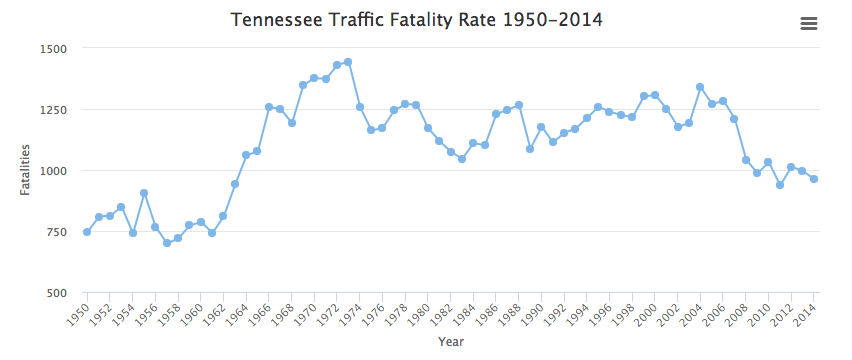 What causes car accidents in Nashville?
Regardless of whether you are driving in a grocery store parking lot, on a rural road, or on a freeway, car accidents can and will happen. Even if you drive perfectly every time, other drivers can make mistakes or become distracted, making the road unsafe for fellow motorists.
Here are some of the most common causes of car wrecks:
Excessive speeding
Reckless driving
Distracted driving – texting, eating, grooming, daydreaming, changing the radio
Driving while under the influence of drugs and/or alcohol
Drowsy driving
Not obeying stop lights, stop signs, and other traffic signs
Not using indicator
Failing to yield right of way
What to Do After a Car Accident
The most important thing to do after a car accident on a Tennessee road is to remain at the scene to exchange information with the other driver. Since Davidson County has the most car accidents in the state, it's important that you know what to do when there is a collusion. Though some states suggest drivers can leave the scene of an accident if the damages were small and no one was hurt, Tennessee laws require drivers to remain at the scene after an accident. If possible, move your vehicle off the roadway and out of traffic while waiting for the police to arrive.
It's a good idea to contact the police regardless of fault or injury. Having an objective account of the accident scene by a police officer can protect you in the event the other driver later claims to have greater damages or if you discover a subsequent injury that doesn't become apparent until later.
If you even think you may have been injured, you should seek medical attention. Many injuries are not obvious to the average person immediately and can take hours for symptoms to start. Medical personnel may recognize injuries that could become apparent later, and this will guard you against claims that you did not suffer injuries in the accident.

Exchange Detailed Information With Other Drivers
Exchange information with the other driver. You will need their name, address, and phone number. You also want to get their auto liability insurance provider and the policy number. Take down the license plate number of the vehicle as well. If he or she is reluctant to exchange this information, write down the license and as many details as you can about the car itself.
In addition, take photographs of the accident scene. Include any street signs that indicate location of the actual incident, traffic signs the other driver may have missed, shrubs or trees that may have obstructed a driver's view, or skid marks. Photograph the vehicles involved in the accident and not just the damage to the vehicles. Photographing images of the undamaged areas of the other vehicle prevents people from claiming future damages were part of your accident. If you have been injured, include photos of any visible injuries.
Get contact information from any witnesses to the accident as well. These witnesses can be invaluable to your case and can be difficult or impossible to track down later. In many cases, valuable witnesses – unaware of their importance – will leave before the police arrive.
When discussing the accident with the police or the other driver, keep to the facts. Do not offer speculation as to who was at fault or the extent of your injuries. Even if you believe you were at fault in the accident, there are often facts you are unaware of at the time that may indicate the other driver was responsible – either completely or in part.

Common Injuries in a Car Accident
Injuries after a car accident are common, even in relatively minor accidents. Unfortunately, no part of you is completely safe during a car accident. A few of the most troubling injuries include:
Brain injuries. A brain injury can range from a mild concussion to severe injury that leaves one with impaired speech, motor control, memory, or concentration. Even mild concussions can leave you with severe headaches for weeks after an accident. More serious brain injuries may require years of medical treatment and therapy. In worse cases, they may result in permanent disability or death.
Neck and back injuries. These injuries are often a result of the tremendous forces placed on the body in an accident. Whiplash is the most common injury received in a car accident. The violent collision results in the head being whipped back and forth, resulting in damage to the ligaments around the neck, the vertebrae, and even the spinal cord itself. In the same way, the back can suffer damage to the vertebrae or spinal cord that may result in painful injuries that severely impact your ability to perform basic activities throughout the day. Damage to the spinal cord may cause temporary or permanent paralysis.
Injuries of extremities. Leg and arm injuries are common in car accidents. These injuries may be a little as cuts and bruises or as serious as fractured bones or damage to the wrists, finger joints, knees, and ankles. Fractures often take weeks to heal and may make it impossible for you to return to work until the injury has healed. Knee injuries can be particularly painful and require time to heal and often surgery to effect repairs.
Chest injuries. If the accident is severe enough to damage the passenger compartment of a vehicle, chest injuries are common. While seat belts and airbags have largely reduced the occurrence of this type of injury, bruised or broken ribs may still result. A broken rib may also puncture a lung or damage other internal organs, causing internal bleeding.
Expenses and Damages
Any serious injuries in the wake of a car accident can easily mean tens of thousands of dollars in hospital expenses, doctor bills, rehabilitation, and possible medical devices for the home. In addition to medical expenses, you may have lost wages due to time missed from work because of your injury. Reimbursement for these costs can be part of the damages you seek after your accident.
Beyond just the economic damages you suffer after an accident, you may be eligible to receive compensation for the pain and suffering of your injury. The amount of pain and suffering damages you could receive depends on your situation.
Should a loved one have been killed in an accident, you may pursue a wrongful death claim. While nothing can make up for the death of a loved one, you may at least be eligible to receive monetary compensation to help restore the financial loss of missing a wage earner, as well as loss of companionship.

Community impact
The car accident attorneys at Larry R. Williams, PLLC recently published an interactive study highlighting the most dangerous intersections in Nashville. We analyzed over 37,000 collision records from 2015 and found what is statistically the most dangerous intersection in Nashville. After extensive media coverage, interviews, and accolades, a new stop sign was installed at the intersection of Hickory Hollow Parkway and Mt. View Road. Our attorneys believe that the best remedy for a car crash is to preempt it, which is why we are so excited that our study has positively affected the community.

Talk to Our Tennessee Auto Accident Attorneys
We specialize in all kinds of car accidents in Nashville, including motorcycle crashes, bus crashes, DUI crashes, hit and runs, vehicle rollovers, and more. Car crash injuries can be devastating. With the help of a team of experienced personal injury attorneys, you'll be on your way to recovery with the peace of mind that you have reliable legal representation. Larry R. Williams has over 35 years of experience, and knows how to resolve your case and win the settlement you deserve. Contact us today for a free consultation, or give us a call now at (615) 256-8880.
"Thank you, Jonathan. You have fought very hard for us and we appreciate all you've done for us. You have communicated with us every step of the way, not leaving us hanging, wondering what's going on. It means a lot just knowing we have you on our side." – Jane F.